100% RELIABLE
We have secure payment methods that guarantee the protection of your purchase.
FIND AMAZING OFFERS
Buy tickets at the best price with our promotions.
MANY OPTIONS TO TRAVEL BY BUS
Choose from more than 150 bus companies. Travel to more than 900 routes throughout Peru.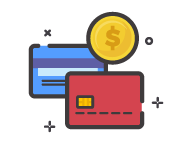 CHOOSE YOUR PAYMENT METHOD
Pay with debit, credit card or Paypal. Also pay without cards, using the cash deposit of PagoEfectivo.